Our Kathmandu office is developing and many interesting projects are going on this year. We have expanded the working space with an additional office room on the second floor and our reference library continues to receive generous donations. The office has become a vibrant place for facilitating ground research into Śākta traditions in Nepal and a number of activities such as manuscript preservation and study, fieldwork, tutorial courses for exchange students and audio visual documentary research. Our Manager Gitte Poulsen is overseeing the day to day operations of the office in Kathmandu and continuing to develop relations and collaborations in Nepal together with the Kathmandu Office Honorary Leader Dr Rajan Khatiwoda (Heidelberg) and Research Programme Director and Manager Dr Bjarne Wernicke-Olesen (Oxford).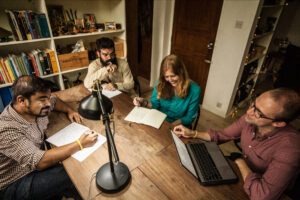 In January 2019 OCHS Director Shaunaka Rishi Das, Dr Bjarne Wernicke-Olesen, Dr Rajan Khatiwoda, Gitte Poulsen, MA, and Professor Kashinat Neupane and Dr Premraj Neupane from Nepal Sanskrit University had a fruitful discussion on educational activities and cultural preservation with Mr Giri Rajmani Pokharel Minister of Education, Science and Technology, Nepal.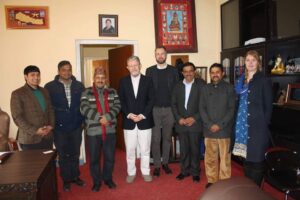 In June 2019 the OCHS had the privilege of hosting Her Excellency, The High Commissioner of India to the UK, Mrs Ruchi Ghanashyam, at Oxford. On this occasion Professor Gavin Flood and Dr Bjarne Wernicke-Olesen presented the Śākta Traditions research programme and the Kathmandu Office and had a very fruitful discussion with Her Excellency on the work being done in Nepal and internationally.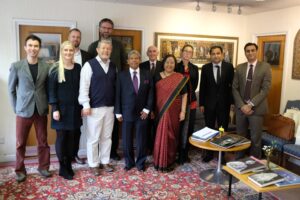 Digitalisation and transliteration of Śākta manuscripts
This summer we launched our digitalisation project at our Kathmandu office. The aim is to digitise Śākta-related manuscripts from Nepal with a focus on quality rather than quantity. It is part of our cultural preservation initiative building up a database that will eventually go online with open access. We digitise Śākta-related material with professional photographic equipment from a number of private collections in Nepal thus making an important contribution in establishing the empirical foundations for a new field.

An essential part of the manuscript work is to visit both private and public collections around Nepal and evaluate and collect Śākta-related manuscripts. This work is mainly undertaken by our manuscript specialist Dr Rajan Khatiwoda, who amongst other things has 9 years of working experience as a cataloguer and research assistant at the Nepalese-German Manuscript Cataloguing Project (NGMCP).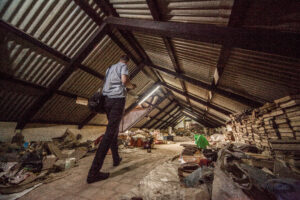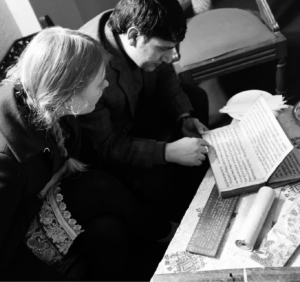 The digitalisation is currently being done by Gitte Poulsen, MA, and PhD candidate Guy St Amant and is supervised by Dr Rajan Khatiwoda and Dr Manik Bajracharya.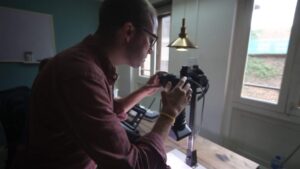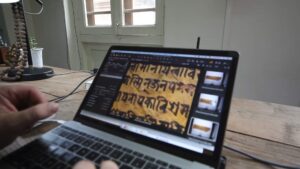 Research documentary trip to Gosāiṅkuṇḍa and Assam
Our documentarist and photographer Prema Goet, MA, led a research documentary trip to the shaman festival Janai Pūrṇima in Gosāiṅkuṇḍa in the Himalayas this summer. Footages from Gosāiṅkuṇḍa (link) and from the Ambuvācī  Melā in Guwahati (Assam) (link) will result in a research documentary about a group of Śākta Aghories from Tamil Nadu and their pilgrimages to Śākta hotspots in South Asia. The research expedition to Assam was led by Dr Bjarne Wernicke-Olesen accompanied by Prema Goet, MA, and Gitte Poulsen, MA.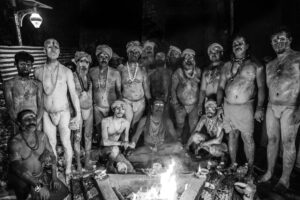 Visiting students and research interns
This summer we continued our successful student programme with a focus on quality rather than quantity allowing only a few students a time to visit. We collaborate with Nepal Sanskrit University in providing individual tutorial courses in Sanskrit, Hinduism and Buddhism in Kathmandu. This entails studying with traditionally educated Nepali scholars as well as tutors from Europe and America. The programme also includes the possibility of conducting supervised field work. Our students are mainly from Oxford University and Aarhus University. Sometimes we have talented student interns working as a librarian at the office or assisting in fieldwork and digitalisation.
Field trips
Dr Bjarne Wernicke-Olesen conducted a number of field trips and interviews with yogis in the Kathmandu Valley together with colleagues and students. He visited old acquaintances and made new contacts. The photos below are from a conversation with Iśa Nāth Aghorī Bābā at Paśupatināth.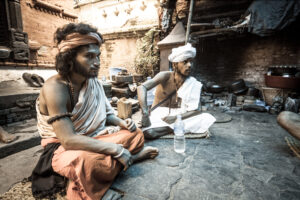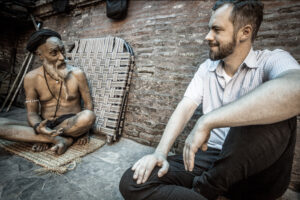 Haṭhapradīpikā translation seminar
A Haṭhapradīpikā translation seminar was held at the Kathmandu office and in Bhaktapur followed by a photo session of the āsanas with Yogi Ramesh in Paśupatināth. In september 2019 the translation group led by Dr Bjarne Wernicke-Olesen and Dr Silje Lyngar Einarsen finalised the first full translation of the Haṭhapradīpikā into Danish at a seminar at the Royal Danish Library in Aarhus. The book will be published in 2020 at Forlaget Univers, Aaarhus. For more information please see here.